Upload Assets to Workspaces
Upload assets from VoxEdit to your Workspace so you can prepare them for the Marketplace or discover them in your Game Maker library to build an Experience.
Workspace is a location in your account on The Sandbox website that allows you to manage your assets. You can upload or replace your creations made in VoxEdit and find them in your Game Maker library for building Experiences using this workflow.
Assets are uploaded by default as "not published." Once an asset is uploaded, from its page you can publish, hide, transfer ownership, or delete it using the dropdown menu beneath the asset image. You can also edit all of the custom information you created, which is noted in the step-by-step instructions below.
3. Create Search Criteria
4. Set Rarity & Attributes
Before you begin, log in to your into VoxEdit using the same login credentials for your account. With the asset you want to upload open:
1.

Open the

File

menu and click

Upload to Workspace

. For an animated asset, you can choose an animation to display and move the arrowhead to the right time for a pose you want displayed in your asset's thumbnail.

Multiple thumbnail options from different directions will be available to choose from. Select the thumbnail you want to display on your asset's page, select the default animation from the dropdown menu, and click

Export

. This will open a tab in your browser directly on The Sandbox website.
2.

Select

New Asset

or

Replace Existing Asset

.

If you choose

Replace Existing Asset

: A list of assets you have already uploaded to your Workspace will appear. This list is filtered by default to display unpublished assets. Select an asset to replace by clicking the radio button on the left of its thumbnail, which becomes green. Then click

Replace

.
3.

Proceed through the following steps to add details that make your asset easier to find in search engines and on the Marketplace, pressing

Continue

after each step:
​
Choose asset type: block, character, prop, equipment, or pass The potential options will automatically be detected based on the asset you've created.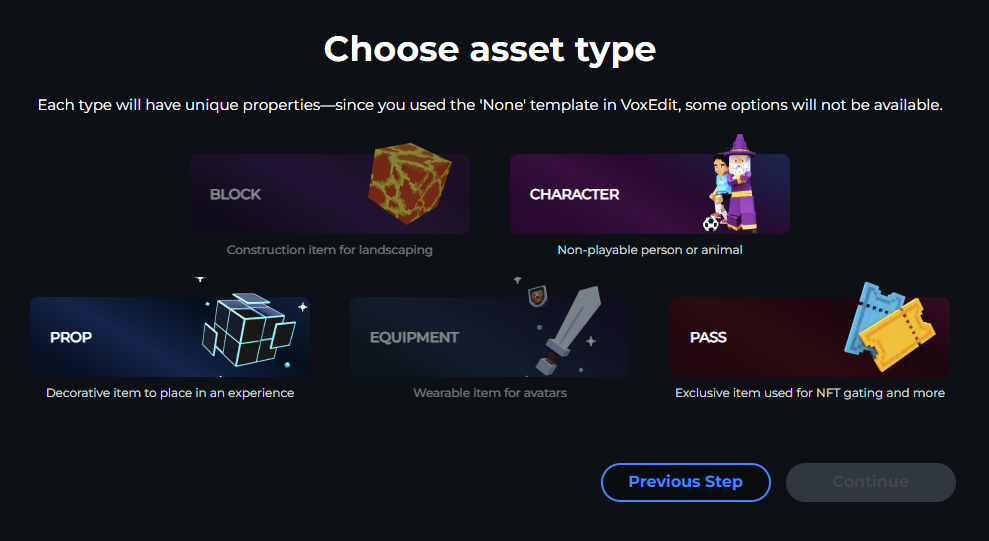 ​
Select a category: structure, vehicles, furniture, electronics, vegetation, art, animated, scene, gameplay, other props.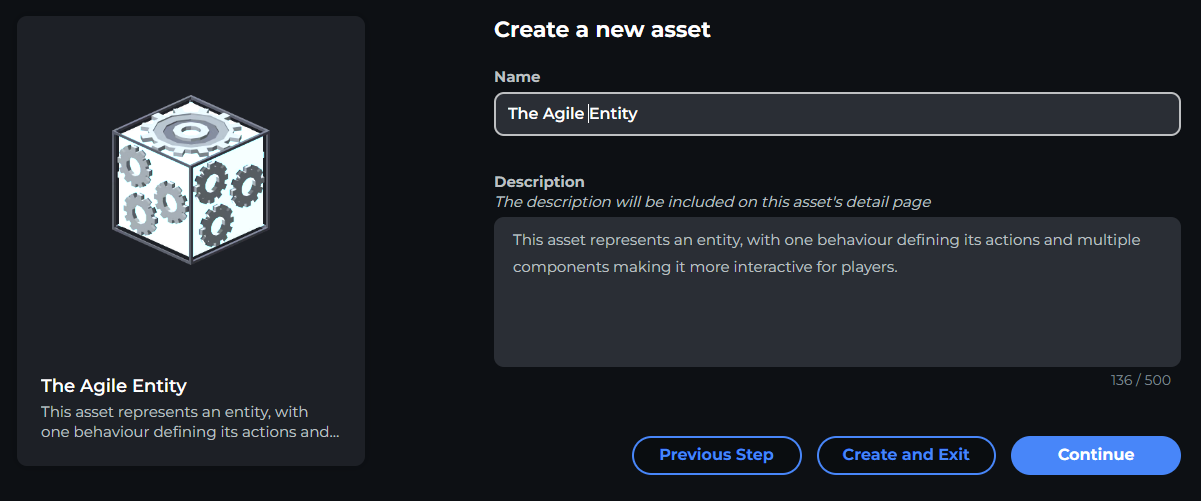 ​
Choose up to three tags: animal, building, city, electric, fantasy, furniture, humanoid, medieval, metal, nature, pirates, plant, retro, rural, scifi, sports, wood.
4.

Proceed through the following steps to determine the number of copies and the way your asset will impact gameplay tolerances through Attributes:
​
Set rarity by choosing a
Catalyst
, select default behaviour, and press
Continue
.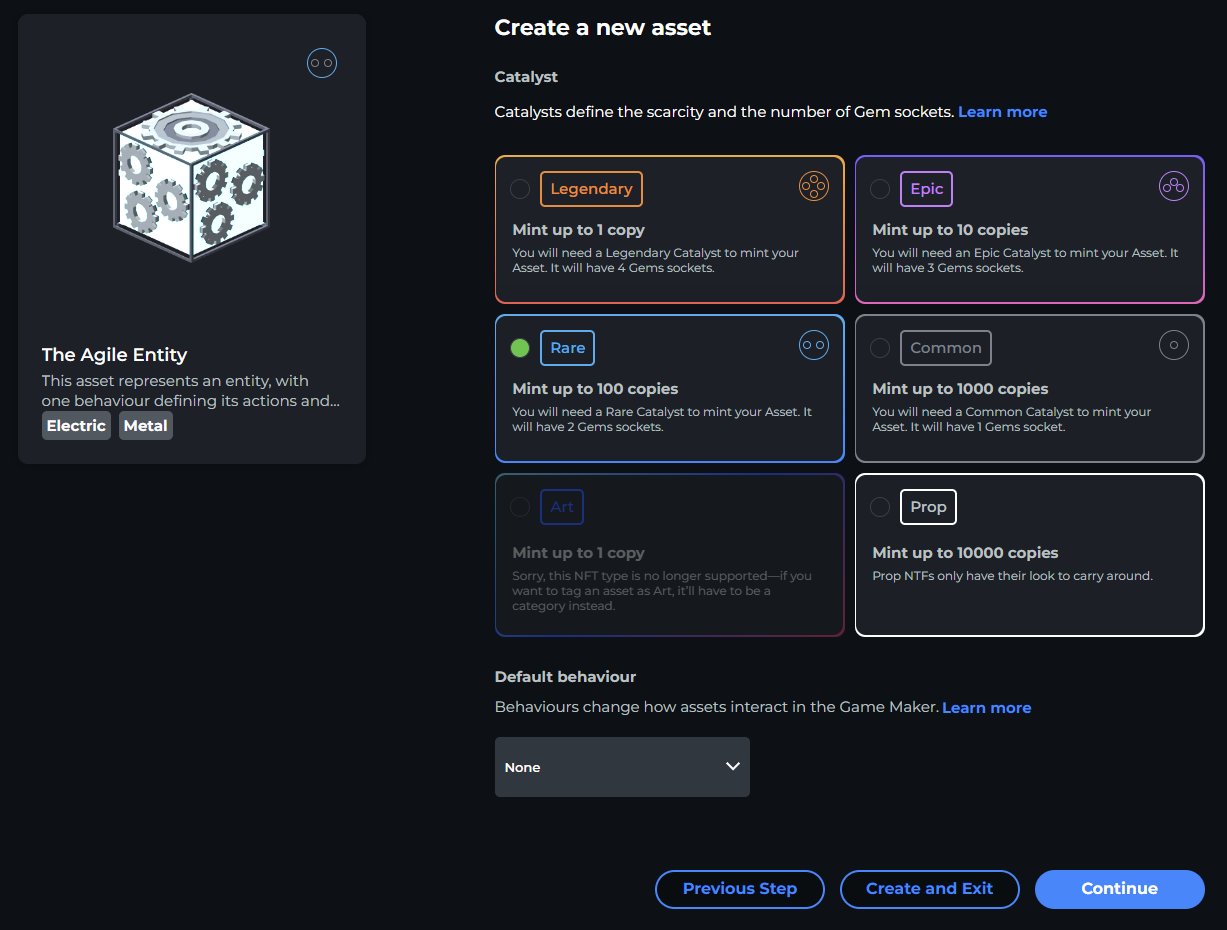 ​
Apply gems to empty slots in the catalyst you have selected, click
Create Asset
.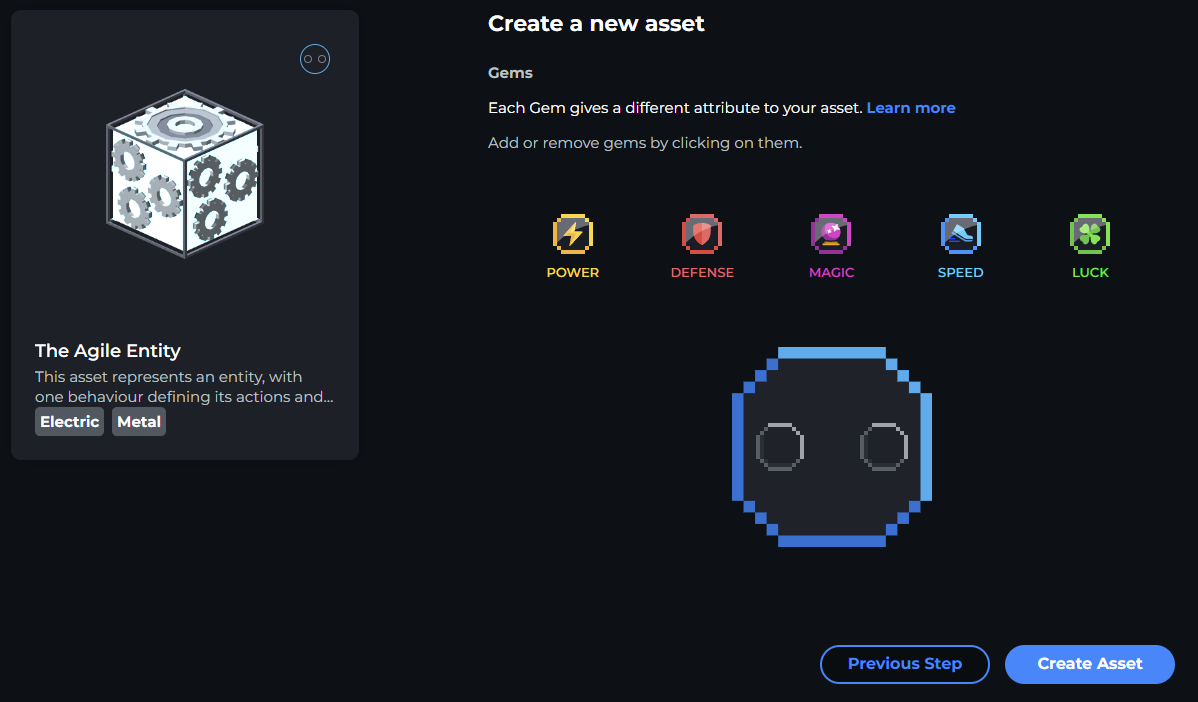 You will then see an editable page describing all of the characteristics you've added to your asset. Press the three dots button

below your asset's thumbnail to:
Click the pencil icon

on the right side of any characteristic to make modifications.